Ecstatic Dance is a conscious movement practice that invites people to drop out of their minds and into their bodies to unwind and open to inner wisdom. Dance, Music and Cacao Medicine are the center point of these ceremonies catalyzing ecstatic states, where conscious mind limitations dissolve, opening the doors to the vast subconscious intelligence. It is an opportunity to connect deeply with self and others in fun ways words cannot express. A gracious experience to meet yourself as you are and open a space where you can see beyond who you think you are… It's about you, freedom, joy and honesty.
This journey will offer a space to develop self-awareness, be moved by deep emotions, expand your intuitive awareness and align your actions with your intentions.


What kind of music is played? And what do we do?
We play music that encourages movement. Our sonic journey is a fusion of world music, electronica, dubstep, tribal house, classic remixes and more!
A few samples here: https://www.mixcloud.com/dancingfire/
*** All the activities during the Ecstatic Dance events are open invitations and it's your choice to participate or not. When you feel you need a break – you can use the cozy chill-out space to lie down, meditate or just observe and process.
In this space, all are welcomed into radical self-expression and acceptance. Do yoga, stretch, dance like no one is watching, or just chill and enjoy the music.


– 5:30 PM – Yoga Session (please bring a mat) 

– 6:30 pm – Opening circle – To step on an inner journey, first we need to feel comfortable with the environment and the people around us. We cannot feel at ease when we are surrounded by complete strangers.
In the opening circle, we get to hear everyone's voice and sense their mood. This will help our bodies to relax and connect with the energy in the room. You can always pass if you don't feel like talking.

– 6:50 pm – Warm-up exercises – a combination of Qigong and other somatic exercises designed to release tension and get the body ready to enjoy the Dance Journey.

– 7:00 pm – Music starts music starts in a low beat to give us the chance to connect with the rhythm in a relaxed way.
You choose when you allow your body to be moved and come alive, following your inner expression.
The rhythm progressively increases once the room starts to move. It may reach a high energy several times during the dance and slow down to conclude with a smooth landing back to stillness at the end.

– 8:40 pm – Music stops and we have a wind-down meditative moment. Depending on the event – there will be Singing bowls, Didgeridoo, Flute or other traditional acoustic instruments to help in this process.

– 8:50 pm – Closing circle – we clap together three times and the fourth time back to the earth to snap out of trance and close the dance.

– 8:55 pm – Non-verbal time is over – have a chat with the people you shared the space with during the dance.
Arrive no later than 6:30 pm and leave whenever you want but be mindful not to disturb the other participants.
Ecstatic Dance Agreements
To maintain ultimate freedom we agree to the following:
1. No talking on the Dancefloor
2. No Cellphones
3. No street shoes on the Dancefloor (light, soft shoes are allowed)
4. No showing up drunk or drugged, no pictures, video, or wearing of scent.
5. Respect the Space – Others' Space and the Collective Space.

When Approaching others:
– Listen for a Yes (get eye contact first)
– Respect any No (when they are ignoring you)
– Respect the Solo Dancers' Right to their Space
– Hands in prayer at heart means: "I see you, and thank you for the dance (that just ended)."
You will be asked to leave if you do not follow these agreements.
Thank you!
Free parking available onsite.
No dance experience required***
Google Maps Location: https://goo.gl/maps/fTwR5Qiocq9b5rw79

Participants must be 18yo+ (The dance itself is suitable for all ages but the opening sharing circle might not be. Sometimes people share things not suitable for a young audience. Also an immersive experience cannot happen when looking after someone else.)
We usually have between 30 – 50 participants most of them RSVP on Facebook:
https://www.facebook.com/EcstaticBrisbane/events/
*** The Cacao Ceremony is scheduled once a month – check the schedule for details.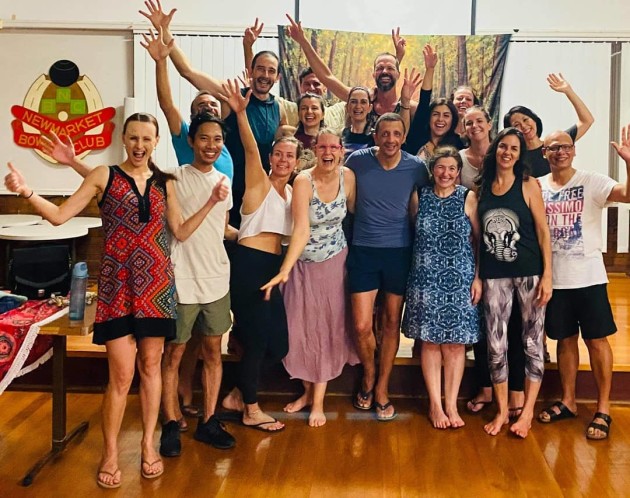 Our Story
The first Ecstatic Dance Brisbane event happened in November 2013 in Northey St. Market, on the Cafe deck.
We started by offering free outdoor dance events, to share with the community the practice that changed our lives.
For the first few times, Monica and I were the only ones dancing, while people curiously watched and enjoyed the music.
The first ones that joined us were the kids that were playing nearby.
The kids then began to drag their parents to join in and slowly the Cafe Deck was full of adults and kids dancing.
About the organizer: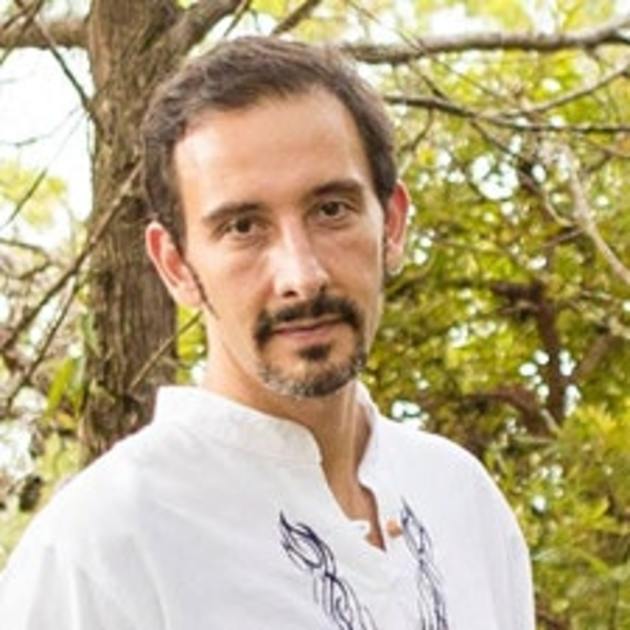 Adrian traveled and worked in a wide variety of places from the most alternative and unstructured to the rigid high-end corporate and government environments for the last 23 years. From camp counselor in upstate NY and gardening in off-the-grid communities in Northern California to engineering telecommunication systems for the aerospace industry and Federal Emergency Management Agency.
As an expert engineer, he taught technical classes for major corporations and the White House Military Office during the Obama administration. Living in such different environments required constant adjustments – pushed him out of the familiar, breaking habits and challenging his beliefs. This rhythm became overwhelming and his body started to lose vitality and get sick.
During a trip to California, he encountered a great community of people who helped him reconnect with his inner wisdom using music, dance and Native American practices. He quit his job and moved to California for more than 2 years to learn how to live again.
In 2012 Adrian became a certified Conscious Dance Facilitator, and held classes in North California until the end of 2012 when he and his partner continued their journey to Australia. Since 2013, they have been facilitating weekly Ecstatic Dance journeys and a monthly Cacao Ceremony in Brisbane.
Reserve your spot at our next event: